ZIP THE BLESSINGS OUTREACH


In the past, "shoe box ministries" has been a huge success. We would have children fill shoeboxes with small gift items for the refugees and we would then hand them out in the refugee camps. Because of limited space, I would like to be able to do the same thing, except have all the little gift items put in zip lock bags instead of shoeboxes. I will then fill up an entire action packer with the sealed zip lock bags and distribute them when I get to the camps.

Suggested items to put in the zip locks would be:
Toothbrushes, toothpaste, small combs, hair barrettes, small bottles of shampoo, (plastic bottles only please), nylon net wash puffs, pencils, pencil sharpeners, pens, crayons, marking pens, small tablets, Christian coloring book (small) a note from the person packing the bag and even a photo if you wish. If you would like a Karen child to write back to you, please include your complete address.
Have a great time joining with us in "zipping the blessings" to our brothers and sisters across the world.
Let's saturate the dismal refugee camps with blessings of aloha from Hawaii and the Mainland!
In His Service,
Betty Shipley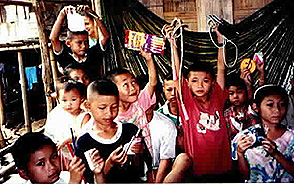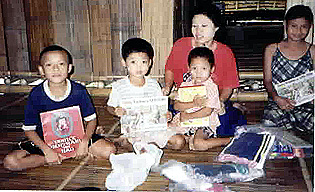 Some of the kids enjoying their Ziploc Blessings!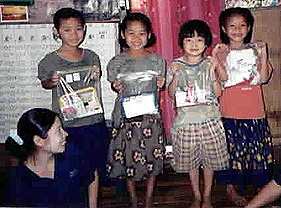 To Medical Outreach Page
To Student Outreach Page
To Women's Outreach Page
To Family Outreach Page
To IDP Hostel Page

International Assistance Group, Inc.
84-680 Kili Dr.
Apt. 1005
Waianae, Hawaii 96792
808-695-9307
808-386-9717