WOMEN'S OUTREACH


The Karen Woman is a truly remarkable person. I have gotten very close to many of these women and honestly don't know how they manage. Many are very well educated and were professional women in Burma before having to flee. They have had to become adept at running for cover in the jungle with all their wordly possessions on their backs. In the 5 years we've been involved with the Karen, some of these women have had to literally start over 2 or 3 times in one year. Their "permanent" homes are made from split bamboo with leaf roofs. Beds are woven mats on the floor & you can lay on your mat at night and see the stars through the holes in the roof. During monsoons they have to deal with constant mud and wet clothing for months at a time and the constant threat of malaria and other tropical diseases. I wonder how well the typical "Woman of the 21st Century" would do if she were to trade places with one of these brave women.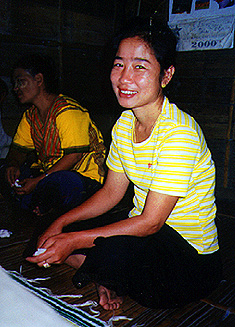 MEIN MEIN EH -
Mein Mein Eh is mother to 3 children - her 4 year old son, a 5 year old daughter, and a 15 year old "adopted" son, Chit Oo. Her husband is a soldier and away from home much of the time. She runs her home in the refugee camp very efficiently. Everything is clean and well cared for. She is also the districts representative for the Karen Women's Organization.
In her kitchen she had nutrition charts tacked to the bamboo walls where she helped teach the other women in camp about proper nutrition. The food supply is very limited, but she grows a vegetable garden to help supplement their bean and rice diet.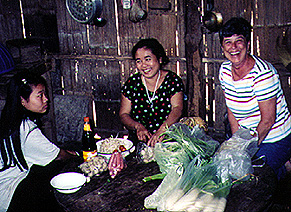 This photo shows Moo Moo (a pastors wife in Mae Rah Moo refugee camp) with Mary Wright of Alabama and a young girl who is helping cook our evening meal.
Moo Moo is the mother of 3 adult children and grandmother of Baby Faith. Moo Moo teaches at the Karen Adventist Academy, teaches kindergarten age children at the church, and oversees a household that is always filled with people. She opens her home to me whenever I stay in Mae Rah Moo camp. I can always count on her to know which family needs clothes and/or food.



International Assistance Group, Inc.
84-680 Kili Dr. - #1005
Waianae, Hawaii 96792
808-695-9307
808-386-9717

Medical Outreach | Children's Outreach | Student Outreach | Family Outreach | IDP Hostel

Back to Home Page