Over the past 6 years we have tried to meet some of the medical needs in the refugee villages and camps along the Thai/Burma border. We have taken in doctors, nurses, medics and even a dentist. Our teams usually stayed 2-3 weeks. The medical personnel would join with the local medics In established hospitals and do all kinds of surgery and medical intervention. We also took small teams and went out on day trips to remote camps and held clinics with our nurses and doctors, if we were lucky enough to have one along. We took in foot lockers full of donated medicine and divided it up among the local medics. Since 1995 we have not taken in large teams but have tried to keep the teams small and mobile. The political situation is such that we have had to be evacuated on several occasions . We now only take experienced volunteers who are willing to work under adverse conditions. We are hoping the situation will improve and we can once again feel safe working with the 100,000 Karen refugees desperately needing our help.


In January 2003 we visited a remote site hospital called Mu Aye Puu. Since that time we have added this hospital to our projects. You can read more about this project at the Mu Aye Puu Hospital Page.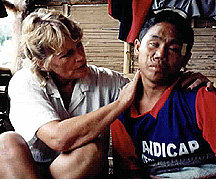 Pah Nya is a 19 year old soldier who was blinded and lost both hands in a land mine explosion. He will require care for the rest of his life. IAG is trying to send money each month to help support him.
When Betty met him at his home he told her, "I would like to see your face, PeeTahThoo, but I can only see you in my mind."
UPDATE: Pah Nya has been moved to a home run by Handicap International where 11 other blind or physically handicapped men live. I met the house mother and she takes very good care of him.
Pah Nya does not currently have a full-time sponsor - If you would like to contribute funds for Pah Nya's care please send us an e-mail using the link at the bottom of this page.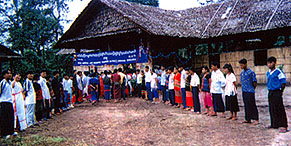 On our last Team mission in 1997 Dr. Jim Borden performed 35 surgeries in 10 days in the hospital shown in this photo. The photo shows the medical students standing outside the hospital/Training Center.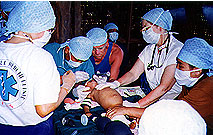 This shot was taken in the operating room. Dr. Eileen, Karen Medic Chee Mo, Dr. Jim, Sandi and a medical student attempting to intubate a baby.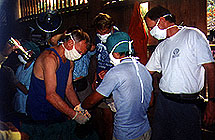 Dr. Jim and team members in operating room in a jungle hospital in 1995 just after the major attack on the area and just before we evacuated.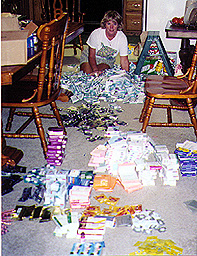 Several boxes of sample medications were donated by a physician and several hours were spent sorting and packing prior to our last trip.
There is no longer a safe area in Burma where we can take a medical team so we are trying to provide medical supplies to Karen Medics who travel deep inside Burma. These medics treat villagers and Internally Displaced Persons living in the jungle or remote, make-shift temporary villages.
We are also coordinating with individual Doctors from Hawaii who have taken in supplies and volunteered at a border clinic.



International Assistance Group, Inc.
84-680 Kili Dr. - #1005
Waianae, Hawaii 96792
808-695-9307
808-386-9717

Children's Outreach | Student Outreach | Women's Outreach | Family Outreach | IDP Hostel

Back to Home Page